Würth on AI: We are Still in the Driving Seat
posted on October 19, 2023
---
During the Maschinenraum Momentum 2023 event, Würth Elektronik CTO Alexander Gerfer made a clear pro-AI statement, featuring CELUS as a case study. Find the official press release from Würth Elektronik below!
We are Still in the Driving Seat
Waldenburg (Germany), September 29, 2023 – Alexander Gerfer, CTO of Würth Elektronik eiSos, made a clear commitment to Germany as an AI business location at Maschinenraum Momentum [a network of nearly 60 family-owned Small and Midsize Enterprize (SMEs)] conference in Berlin on September 28. As a manufacturer of electrical and electronic components, Würth Elektronik sees itself as a supplier of components and know-how for innovative industry. One great example is the cooperation with CELUS – a cloud-based engineering platform.
The organizer refers to Maschinenraum Momentum 2023 as the "first conference by SMEs for SMEs". It offers inspirational inputs as well as panels and in-depth topic tracks.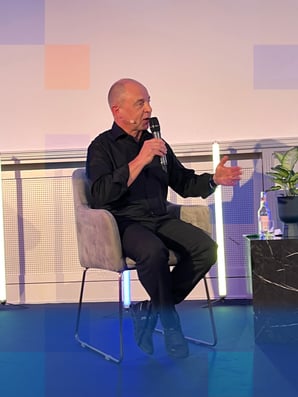 Alexander Gerfer was among the speakers and participants this year. The CTO of Würth Elektronik eiSos clearly positioned himself in favor of AI in both his presentation and in the discussion which followed. "As official forecasts clearly indicate, there will no longer be any job that does not involve AI applications in some way or other.[1] I can completely endorse this prognosis: Artificial intelligence is coming – and it is set to revolutionize our lives, that much is certain. So it's now up to us to exploit the enormous potential of this technology and for us to make use of it. We are still sitting in the driving seat – and that's where we have to stay. In order to continue to be progressive and forward-oriented, it's essential to act decisively and make bold decisions at the right time."
Components for AI designs
The cooperation with CELUS exemplifies where Würth Elektronik is headed. The deep-tech company has added Würth Elektronik's proven passive components to its cloud-based engineering platform database. CELUS uses the database to automate development of PCBs based on modern AI. "From my own experience, I know that many ideas fail because of a single missing component, and that in circuit design, a lot of time is still spent sifting through catalogs and reinventing the wheel," Gerfer reports. "But, we can no longer afford to do this in times of rising demand and labor becoming scarcer. We at Würth Elektronik keep in touch with the times with our marketing concept. We want to enable innovation and turn ideas into market-ready products. AI concepts, like the CELUS platform, set the direction: The person has the idea; the machine handles the routine tasks for them. That's the future of artificial intelligence."
Quality over quantity
"SMEs generally don't have big development departments, and so they have to deploy their manpower in a more focused and rational way," adds Tobias Rappers, Managing Director of the conference organizer Maschinenraum. "AI-assisted design is reshuffling the cards, especially in competition with large enterprises. Innovation is no longer a question of quantity, but of quality."
Alongside Alexander Gerfer, Prof. Christina Kratsch, Professor of Artificial Intelligence & Software Engineering at the University of Applied Sciences for Engineering and Economics (HTW) Berlin, and Dr. Simon Müller, Deep-Tech Entrepreneur at wattx, the SME development partner, participated in the panel discussion on AI. The question addressed was "How do we operationalize generative AI in SMEs?"
Important: Component availability
"The best design is worthless if the components designed for it are not available," CELUS founder and CEO, Tobias Pohl stresses. "This makes cooperation with strong global players, like Würth Elektronik, all the more important for us. By having leading component manufacturers listed in our library, the engineers are able to find the best alternatives for their development work and circumvent chip shortages."
Numerous new AI startups
"Germany as a business location is far better than its reputation, especially when it comes to AI," Alexander Gerfer clearly affirms. "According to the 'applied AI Institute for Europe', the number of AI startups in this country is up by 67% in just one year. The renowned institute currently counts among more than 500 AI start-ups in Germany.[2] We'll support this positive trend proactively and specifically with our know-how and experience, as we have already done successfully in many other start-up fields."
Images: (c) Würth Elektronik
[1] Source: Tagesschau
[2] Source: Federal Ministry for Digital Affairs and Transport (BMdV)
If you are a journalist, who would like to discuss this topic in more detail, please reach out to the respective PR contacts at CELUS or Würth Elektronik. We will be happy to facilitate an interview with our experts.