Reach more engineers and achieve design wins
Do engineers get lost on your website looking for the ideal component? Achieve more design wins by providing enriched data to your technical customers via a direct channel within our design tool, making it easier for them to adopt your components without overloading your FAE team with questions. Our smart algorithms will search through the data you provide based on customer's requirements and deliver context-aware results as components and reference designs. Besides, there is another advantage of having one digital channel for your customers. Rather than the usual PDF format of datasheets, it would be a lot more convenient for your customers to avoid transferring this PDF data into a CAD format. The usual mistakes that occur during this transfer are then a thing of the past.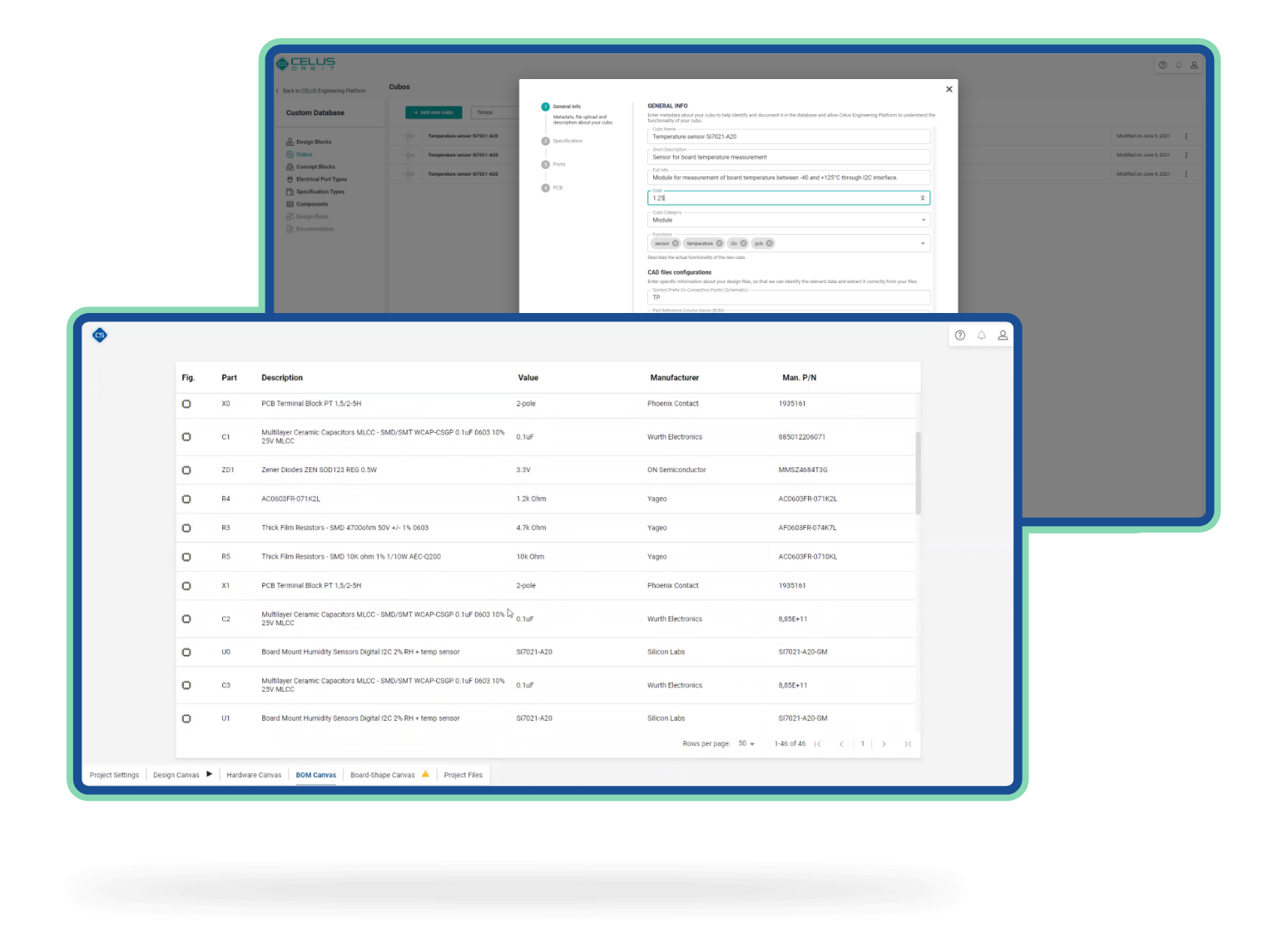 Actively offer your components
Take over the initiative and have a direct channel to your customers to actively offer your components at the engineers' fingertips.
Provide the right digital format
Common mistakes made while translating reference designs from PDF into CAD format can no longer endanger your customers´ timelines neither your design-wins.
Use valuable data insights to stand out
Analyze access and usage of your data and let these insights drive your decisions to be even more successful.

Advantages for you
---
See how to use the CELUS Engineering Platform
Higher visibility and design wins
As a component manufacturer, you can transfer your components' data to our database, making it accessible to engineers while they work on the first stages of their electronics system. Storing application notes and reference designs in form of Cubos will further enable the CELUS Supernova algorithm to actively propose them to your customers based on project context and requirements, increasing discovery and design-wins.
Insights into your component data usage
Clear insights into the usage of your component and reference designs' data on projects help you to make better decisions and focus your development resources on the right components.
Advantages for your engineering customers
---
See how your customers accesses your components
Intuitive functional description with a block diagram
Engineers using CELUS Orbit and CELUS Supernova will work with the CELUS Engineering Platform in this interface. Here, they will insert their functional requirements on a very abstract level. The algorithm now searches the database that includes your components for the ideal fit.
Your customer's Bills of Material
Once you added your components into the CELUS Orbit default database, the CELUS Supernova algorithm uses your components to propose a fully automatically generated schematic, PCB-Floorplanning, and Bill of Material to your customers.
Check out the last Case Study
---
LAN Interface Module with Viessmann
This case study shows how the CELUS Engineering Platform works and which steps of the development process it specifically takes over. With the help of the platform, CELUS was able to support Viessmann in the redesign and optimization of a LAN interface module (LAN Card).