Reuse your high-quality circuits



Being able to easily find modules that have already been developed with proven, released, and available components, saves the time of looking for components and even more. CELUS Supernova automatically finds and proposes modules to build on your electronic circuit. Using trusted circuit blocks means that the process of running simulations can be largely avoided. This saves many hours and increases the chances to get it the first time right. To achieve circuit design re-use, you will need the right infrastructure to save all necessary information in digital form. Also, CELUS Orbit offers a platform that securely stores your data in the cloud. At CELUS, we call these reusable circuits Cubos. The Cubos contain all relevant data needed to understand and easily use this module within a full electronic circuit design.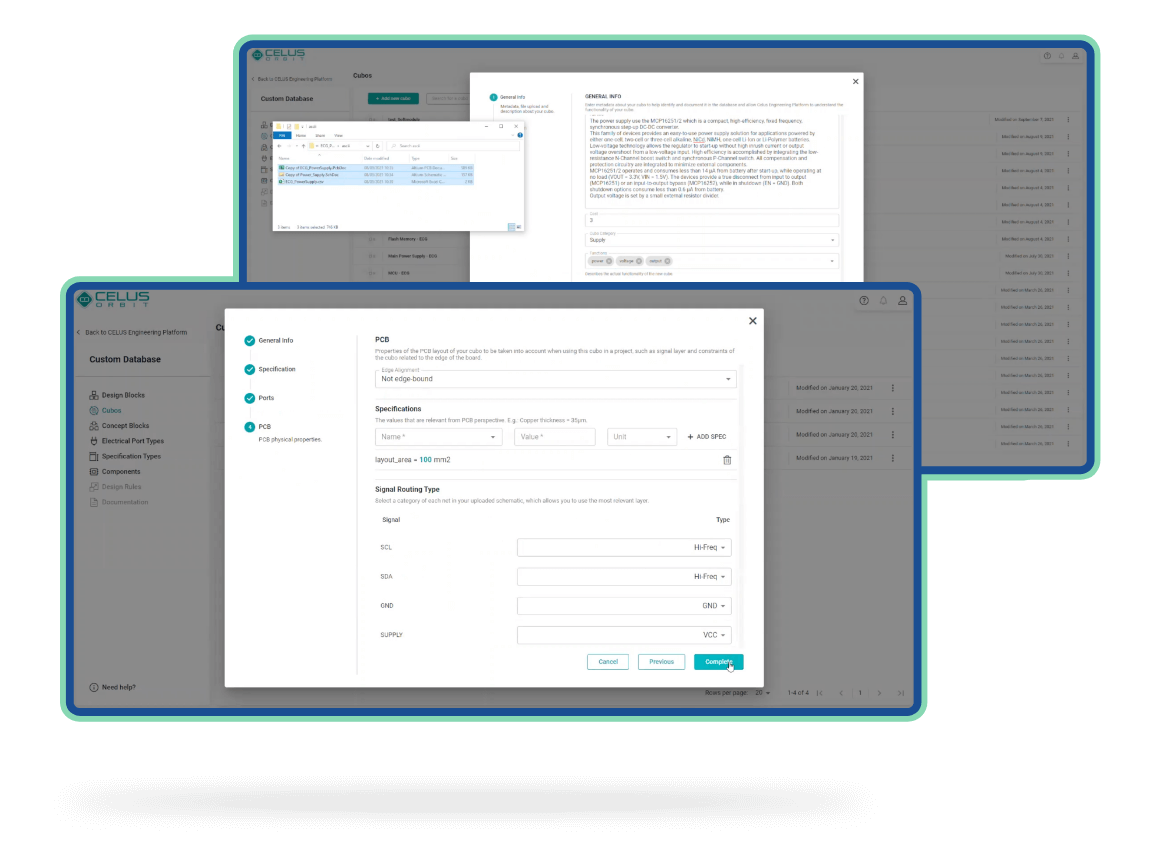 Gain speed by having everything in place
Structure your previously developed circuit blocks consistently to enable engineers to find and re-use them across teams without hours of investigative effort.
Store your invaluable data ready to (re)use
Electronic engineers find up-to-date information such as product parameters, footprint, schematic symbols, datasheets, errata sheets, and application notes in a single location.
AI will boost your efficiency
Consistent and complete storage of your electronic circuit blocks enables the CELUS Supernova AI-based algorithm to scan and work with your circuit blocks. By automatically selecting and connecting these individual circuits, Supernova creates new designs within minutes.
Screenshots from the project
---
The CELUS Engineering Platform combines all steps within the engineering process into one solution
The Cubo wizard
Cubos are holistic information packages of reusable circuits. Easily upload all necessary information with the help of a wizard. Only confirm automatically created suggestions and save time while equipping your library.
Uploading CAD files into Cubos
In order to have all information in place for proper reuse, Cubos contain CAD files of the modules. This allows the CELUS-AI to recognize technical specifications, such as compatibility or interfaces.
Store component files
All Cubos you ever added into the system will be stored perfectly structured in your custom library. Search the library with an and/or function and find everything easily accessible and in place.
Custom workflows for a 100% correct database
Define your custom workflows for your individual change requests, notifications, end-of-life alerts, and many more. For example, you can set up an E-Mail notification to the product owner for any changes.
CELUS Supernova to provide reuse without effort
The proper structure not only saves time in terms of searching efforts for reusable components. It also enables the CELUS Supernova to automatically suggest fitting components based on your functional block diagram.
More solutions for engineering companies
---
Check out the last Case Study
---
LAN Interface Module with Viessmann
This case study shows how the CELUS Engineering Platform works and which steps of the development process it specifically takes over. With the help of the platform, CELUS was able to support Viessmann in the redesign and optimization of a LAN interface module (LAN Card).