Structure your high-level requirements right



Requirements and functional specifications are the basis for electronics engineers to work with. The analog description in office tools can be a source for momentous mistakes. The solution can be a new tool and a new format. CELUS Supernova is easy to use and gives you the chance to explicitly describe all functional requirements and specifications in an interactive interface. A visual hierarchy can also support engineers to decide on priorities and structure the project in the most efficient way. This can be approached with a block diagram of functional components, in which all specifications are directly implemented. High-level requirements made clear.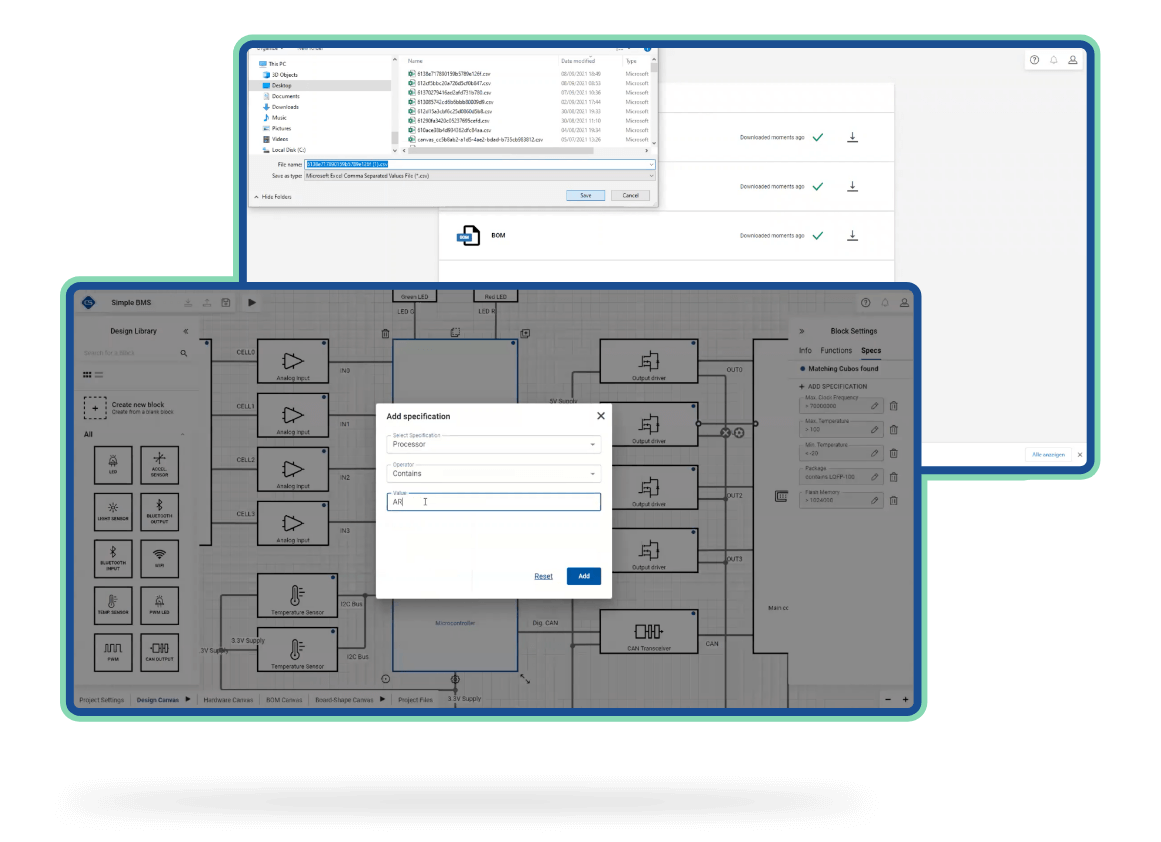 Be on top of things
Receive high-level requirements directly in the tool, in which you can edit the architecture. Save the automatically created schematics, Bill of Material and layout in a digital format that is compatible to your CAD tool.
Abstract block diagrams
Describing the functionality of your project in an abstract block diagram will enable engineers to faster complete the tedious parts of the engineering process. Also, such a diagram is readable by our algorithm, which automatically suggests fitting modules.
Eliminate mistakes
Saving your electronics files directly in a digital format avoids error-prone interpretation and the transmission from one tool into another. It also saves precious time from highly-skilled electronics engineers.
Screenshots from the project
---
The CELUS Engineering Platform combines all steps within the engineering process into one solution
Visual block diagram
To keep the overall project overview, CELUS Supernova provides working with an abstract block diagram defining all functionalities. All further specifications can be defined in the later process.
Cubos
CELUS searches for the fitting Cubos to your requirements. Cubos are holistic information packages of reusable circuits. They provide the right structure for all data required for a complete and healthy database.
AI-generated files compatible with your CAD-tool
Based on the functionalities added in the block diagram, the algorithm is able to fully automatically generate schematic, PCB-Floorplanning, and Bill of Material. All files are perfectly compatible and editable in the CAD tool of your choice.
More solutions for engineering companies
---
Check out the last Case Study
---
LAN Interface Module with Viessmann
This case study shows how the CELUS Engineering Platform works and which steps of the development process it specifically takes over. With the help of the platform, CELUS was able to support Viessmann in the redesign and optimization of a LAN interface module (LAN Card).