Make using your components easy
---
How do you convince customers to use your components? Offering components in an online catalog and passively waiting for customers to find and use them seems currently to be the only way to achieve design-wins. At CELUS we offer to place components easy to use and with easy access right in front of the engineers at your customers.
Get active
The current workflow of developing electronics starts for your customers with searching through all your top-notch components until they find the one they need. To be able to take the initiative, a direct channel to your customers is required to actively offer your components at the engineers' fingertips. Besides, there is another advantage of having one digital channel for your customers. Rather than the usual PDF format of datasheets, it would be a lot more convenient for your customers to avoid transferring this PDF data into a CAD format. The usual mistakes that occur during this transfer are then a thing of the past.
Your solution: The CELUS Engineering Platform
The CELUS Engineering Platform consists of two interconnected parts that offer the previously described advantages to you and your customers. Using CELUS on your side enables our software to access your components. Then, CELUS Supernova can take over on the side of your customers. The AI-based tool offers recommendations for design challenges that include your components, making it easier than ever before to work with them. This is how an automatically generated Bill Of Material could look like: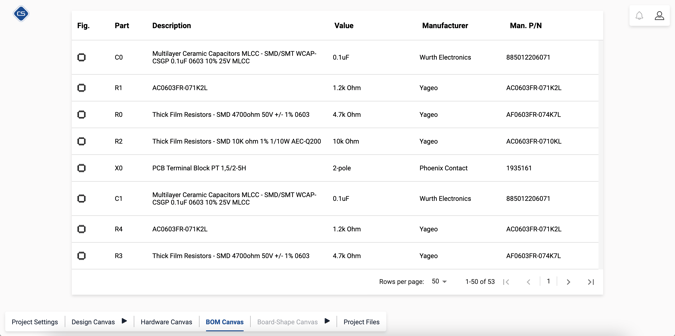 However, this is just one part of the story. With the cloud-based database CELUS Orbit, you gain access to a smart, digital channel to directly reach design engineers around the globe. Adding and maintaining your component data, as well as offering application examples in form of Cubos (what are Cubos?) increases the value of your components as they are combined with all important and necessary information to instantly start working with them. For instance, not only technical specifications are available but the entire support documentation, which provide help to the design engineers right where they need it. By having all product information saved digitally and in the right format in CELUS Orbit, the risk of translation mistakes is effectively mitigated.
Achieving internal goals
With CELUS Orbit, you will achieve more design-wins by providing enriched data to your technical customers, making it easier for them to adopt your components. Also, a digital channel provides more capabilities for this than the usual PDF files. By uploading your components in CELUS Orbit, usage data of your components and Cubos can be monitored and gives you valuable product and marketing feedback about usage. This enables you to better plan your resources and where to invest expertise. You can access component usage analytics to drive your internal decisions on promoting certain components or prioritizing product lines.