The Internet of Things
---
The Internet of Things is also known as IoT, a giant network of connected devices, which provides gathering and sharing a significant amount of data through the networks and user interfaces. This could make visionary scenarios possible: A smart city would be imaginable with parking lot management, energy-saving through interactive lanterns, automotive cars or other practical functions. But this is only one example, where a connection between smartphones, cars and any other devices can offer great opportunities.
IoT will have a massive impact on the way humans will live and interact with technology in the future. IoT will make businesses as well as the working lifestyle more efficient, as it can provide companies with more insights into their performance and their customers' needs. In addition, many other industry verticals will be impacted by IoT, such as applications in manufacturing or healthcare.
Besides, in these future scenarios, IoT has already had a tremendous impact on currently existing devices. For lawn mowers or vacuum cleaners, for example, there is already a huge supply of robots, which can take over and send real-time data to a smartphone device – a typical way of using the Internet of Things. These examples will be discussed more detailed in this article.
Role of Electronics
Engineering and Sensors in IoT
Electronics Engineering is the main driver of IoT systems, as sensors are an inevitable part of IoT. They identify external data sources by measuring certain parameters and transfer this data in a comprehendible way for machines and other devices. Sensors vary by the type of communication interfaces. The most common types of sensors are USB, Wireless and Bluetooth sensors and embedded sensors. IoT is mainly operated by embedded sensors used in the connected devices. The information collected by the sensors allows machines to perceive information about their environment and even react to them.
Here is where AI comes in to help devices and systems to analyse data and make decisions without any human interaction. This smart ability, which is also known as AIoT, is mostly used to enhance business performance and system optimization. For this purpose, the information has to be analysed in real-time. This would not be possible in small devices like smartphones due to a lack of computing power. Therefore, the data collected by the sensors were transferred from the devices to the cloud-based ecosystems. Using a cloud helps to deal with huge amounts of data (Big Data) collected by various sensors.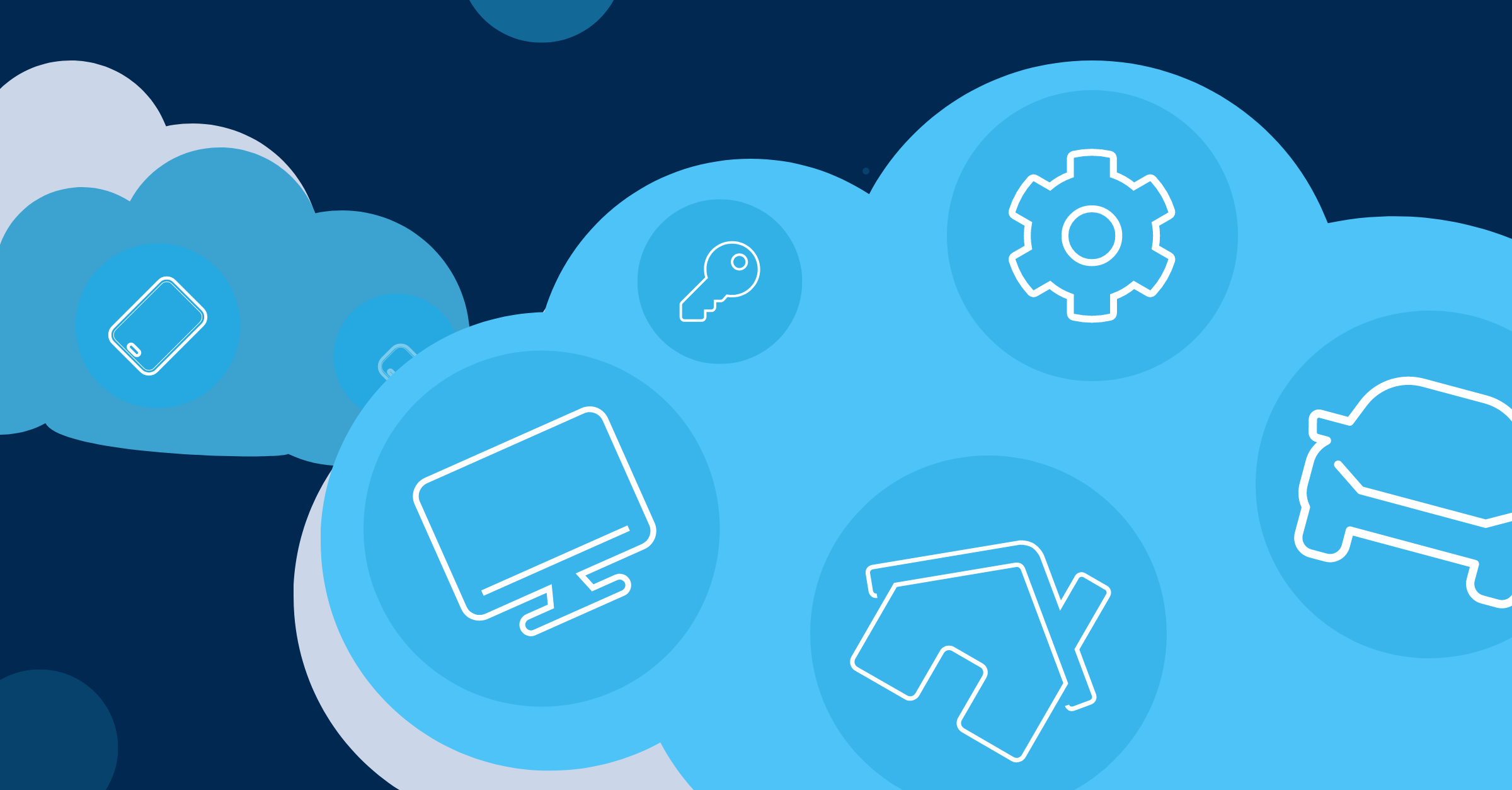 Cloud in IoT
The Big Data that is generated by IoT requires a vast strain of internet structure, therefore, companies need to have the capacity to transfer their data in a manageable and secure way. Cloud computing makes this possible and can be categorized into three different models:
Private cloud service

is only accessible by specific organizations, especially if their data is sensitive and confidential such as health and financial companies.

Public cloud service

offer the same options as cloud services. The main difference is the availability of the resources, which can be shared with different organizations for data storage.

Hybrid cloud

is the mixed model of both private and public cloud services. In this model, organizations are able to choose the service by their needs, so, this service offers more flexibility for corporations.
IoT and cloud computing complement each other and bring more efficiency and flexibility to everyday work. By using a cloud system as data storage, the IoT companies are able to manage and process huge amounts of data. Additionally, IT developers can access the data from any places via the internet and enables them to collaborate more efficiently.
IoT Security
Apart from all IoT benefits, there are some challenges on the way. The biggest challenge of IoT applications is data security. All data is transmitted via the internet, cloud, or among devices. Leaked data endanger privacy and personal security rights. Consequently, there is a great challenge for IoT providers to secure both hardware and software and to prevent security vulnerability.
IoT in the Healthcare System
IoT will have a massive impact on healthcare system connectivity. The system is also known as IoMT, which stands for the internet of medical things. This technology enables patients to collect their vital sign parameters such as heart rate, respiratory rate, ECG, with the help of medical devices and wearables. Next, the collected data will be processed and transferred remotely to physicians and healthcare providers. This technology can prevent catastrophic events like cardiac arrest and reduce hospital costs by up to 70%.
IoT in Smart Homes
A smart home includes various electronic appliances that are connected by a central computer control system. This technology allows us to automate our home. It can be used not only for security purposes, but also for controlling appliances such as smart kitchens and smart bedrooms. A more sustainable approach can also be to real-time monitor the energy usage. One can control and monitor their smart home by an App which is connected to the sensor devices by the cloud.
IoT in connected cars
The concept of connected cars is to enable the vehicles to drive automatically. For this, they need to communicate with other devices and vehicles through the internet network and cloud. Connected cars have a wide range of usability for safety to prevent car accidents or heavy traffics as human failure can be avoided. Once autonomous driving is established, the transportation system will be entirely changed as time goes by.
Conclusion
As technology continues to rise, our daily life and work environment will also be highly affected by these changes. IoT will bring an exciting future due to a wide range variety of applications such as smart devices, smart cities or connected cars. Soon, the 5G technology as latest innovation will dramatically enhance the level of connectivity and make vehicles connect and transfer data way faster. All in all, IoT will make our world smarter by merging the digital and physical world.