Interview with Sales Manager, Rainer Assfalg
---
Rainer Assfalg, the sales manager at CELUS, looks out for the well-being of our customers and attracts new ones. We discussed with him how market needs are changing and how today's electronics engineering sales are different.
Hi Rainer, we want to know more about you! Could you please tell us about yourself?
First of all, I am husband of a wonderful wife. We have two amazing daughters, and not to forget two additional family members. Our cats Lucy and Timmy. Also, traveling and experiencing other countries, cultures, and people is important for me. I lived in Boulder Colorado for four years. It was great to learn and experience something new every day.
In my professional life, I had the opportunity to work with colleagues and customers around the globe. It is extremely exciting for me to see what interesting products customers create using our software tools. In my private time, I spend time with my family, going to the movies, or enjoy outdoor sports. I like cooking and eating. I think this is an important part of my life.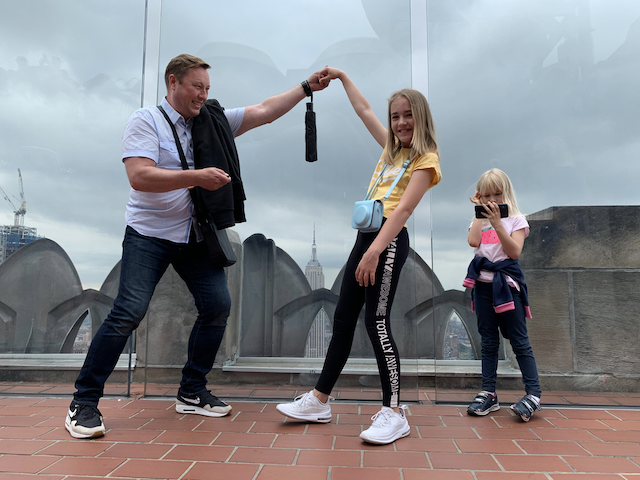 Rainer with his daughters
You joined CELUS recently. Tell us, how has your life changed since then.
I really like the culture of CELUS - open and friendly communication. I enjoy meeting and working with our team every day. It is rewarding to contribute to the company's success. CELUS is always present because I do constantly thinking about my activities, my projects, new strategies, etc.
Could you tell us about your mission at CELUS?
My mission at CELUS is to evangelize and convince the electronics engineering community to use our groundbreaking technology. To do this, I will work on the market awareness. Every electronics engineer should know CELUS and our exciting products. Engage with partners who will contribute to the success of CELUS. Also, attract as many customers as possible to grow our footprint in the engineering community. The growth of CELUS is an essential part of my mission.
What is your favorite task at work?
To engage with customers, discussing their challenges, and showing them how we can enable them to be more successful. It's thrilling to see the real products that customers develop using our platform. I enjoy every day working with the CELUS team, which is full of enthusiasm and energy.
How is today's sales market different from, say, a few years ago?
In the past, sales were much more formal. Today we have so many more opportunities to communicate with our customers. Electronic design automation (EDA) tools were important for the company's image; today they are a commodity. The demographic change has also had a deep impact. Electronics engineers are being given many more design responsibilities in addition to all other duties. I think the classic CAD departments will disappear over time.
And how will it change in the future?
The electronics market will grow significantly. That means more microcontrollers, more sensors, a growing consumer market, the IoT market, and the e-mobility market. At the same time, the number of available electronics engineers will not grow so fast. Engineers will expect tools that are easier to use, readily available, but smarter and more productive. We do and we have to find more ways to communicate effectively with the following generations. I think we have to make it easy to get information about ourselves and our tools to a personal touch. That means we need to give our potential customers a chance to make up their mind before we personally engage. I think the main challenge is to be visible on all significant communication channels.‍