Interview With Designer, Alexandru Tatu
---
Alexandru Tatu is one of Celus newcomers. He has been supporting the Marketing Team for two weeks with appealing designs — so probably you already saw some pieces of his work. Read now more about his approach to a design is and which role design plays in his life.
Hi Alexandru, could you quickly introduce yourself?
Hi, I am a multidisciplinary designer who welcomes new challenges. My passion for human behavior and aesthetics lead me into the design world. I am trying to combine psychology, marketing and aesthetics in order to create an outstanding user experience.
You just started working at Celus. What were your first impressions in the office?
I am very happy that I chose to work at Celus, I think it was a good decision. From the first day on, I have been feeling the energy and desire of the whole team to change how the world approaches the subject of Electronics Engineering. I think Celus gives a contribution to the future and I am excited to be part of this.
What I like the most, is that the company doesn't have a hierarchical structure, you can ask everyone freely and you can receive feedback from everyone. Also, every single idea is taken into consideration and from my point of view, this is part of the progress.
Which part of the design process do you like best and what is the hardest part of doing a design?
The most beautiful part of designing is to explore. I If you do not explore your environment, you miss a lot of chances to discover unexpected paths. Therefore, to add originality to design you must explore: You have to understand the project and the user and get out of your daily comfort by trying something new. That makes the whole process so exciting.
I consider the usability of the product as the hardest thing in design. It is the approach to understand the purpose of your work and at the same time everything must be beautiful and memorable. A design is a success when the product reaches its purpose, while the user instantly understands its functionality without thinking about how to use it or what it was built for. Nevertheless, a sparkle of unexpectedness added to design drives to a better experience.
How do you stay creative and what inspires you?
First and foremost, design is a mindset, it is a way of life and I am always trying to create something new. Imagination is something that is practiced, there is no limit, there is only a barrier that you impose if you do not try something new every day. I consume a lot of social media and for me, social media is only about design. I follow all the design trends and I never try to stick to one of them. Inspiration can come from anywhere, an interesting post, nature, photography or a poster design.
What do you enjoy about living in Munich and where are you originally from?
Originally, I am from Alexandria, a small city near the capital of Romania, Bucharest. Most of my life I have been living in Bucharest.
I like Munich because of its balance, which can be easily seen everywhere. There is a balance between nature and things built by humans, between tradition and new. No wonder that Munich is included in the "World's Best Cities To Live".
What is your favourite design-related project you ever did? Can you show it to us?
I think my favourite so far is the design for 'Bakery Lover'. I love how the design is so self-evident. If you analyze what is behind this concept, you will find the passion and the process you have to follow to make bread. As I mentioned above, this is exactly, the value I bring in design: To make the digital environment feel human, to be easily understood by the user.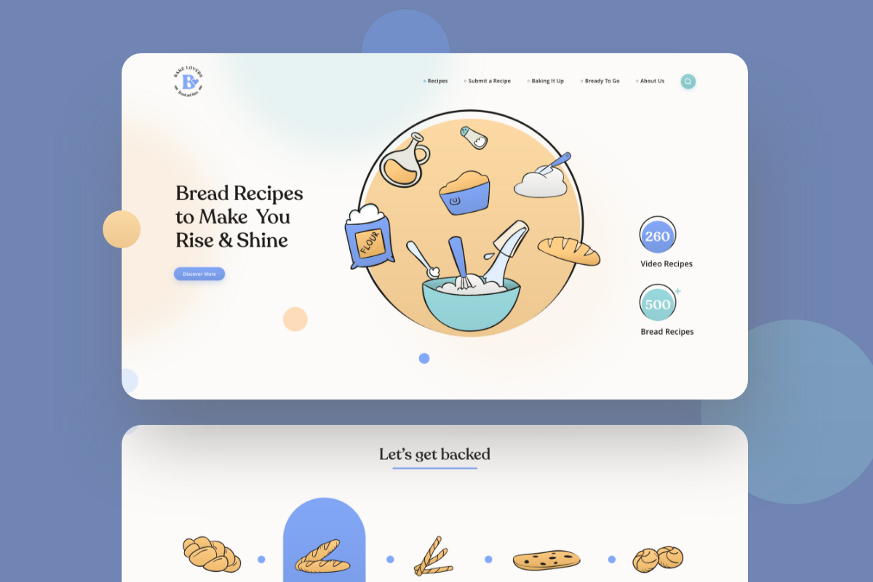 For this purpose, the use of organic shapes and the colour palette expresses the connection between the digital and physical world. It makes us think of our childhood and the charming smell of pastries. The curved lines that define the sections of the website signify the shape of the dough. In the design, there are nested simple and flat elements to highlight the most important things for the user, which are very easy to understand. So, it also has high usability.
‍