Design Reuse – Copy & Paste?
---
In almost every industry we have an overarching trend ongoing: reuse. We should buy our clothes second-hand to reuse them and companies even reuse old cartons for shipping. But not only environmental resources are limited, in our fast-moving world it is also time and expertise that is very tight. So why not reusing know-how? Many industries are already experts in Design Reuse, others are still working on well-adapted solutions. Looking at the software development, one can see a best-practice-example. Nobody develops codes from scratch anymore. Instead, there is a library with modules every developer can choose from and adapt it to their special needs – Design Reuse at its best. Hence, the basic idea behind this concept can be applied to almost any industry.
Electronics Industry as a straggler
In the electronics industry, this spirit has not yet moved in. But especially in the electronics field the requirements are growing: Technology is getting more and more complex and products are released in shorter development cycles and less time-to-market than ever before. This combination leads to a growing pressure on the developers. The crux of the matter: On top of that, we are facing an increasing shortage of skilled workers, so companies cannot simply recruit more developers. We believe that Design Reuse is one component of a sustainable and long-lasting solution. Now we want to understand what obstacles companies face in electronics development and how they can be overcome in order to implement Design Reuse in the electronics industry as well.
Central Saving needed
In order to find solutions for the electronics industry, we first need to look at the current state. Often, every developer should add developed modules into an excel sheet. In the worst-case scenario, this list is sent via E-Mail among team members, and nobody ever knows which one the most recent version is. This shows that Design Reuse requires a lot more effort than just copying and pasting. It is no wonder that engineers rather develop a new module instead of doing the effort and searching for a module that could fit their needs in various different manually made lists.
However, this part of the problem can be resolved easily. During the COVID-19-pandemic, cloud-computing is an essential tool for being able to work remotely. The main advantage is the option of decentralized use, so everyone can access all information from any location at any time. Storage is centralized, so everyone is working in the latest file on the latest knowledge. The saving meanwhile is central, and this is the reason why everyone can always be on the same level of knowledge.
Library Management as the basis
Another obstacle that is not that easy to eliminate is the practical usage of pre-existing designs. Imagine sitting there as electronics engineer and having the task to develop a certain module. All you know are the requirements you received from the project management. So, what exactly should you be looking for? If the module library you have in front of you consists only of technical data and specifications, this will quickly become an unsolvable and time-consuming task.
CELUS found a solution for this problem using automated library management. CELUS Orbit is an intelligent data management system to structure your valuable engineering data in a logical and reusable way. The big difference: when adding a module to the database, you as an engineer have to add additional information, such as:
Interfaces, input or output;

Functional requirements, such as supply voltage, temperature range, cost sensitivity, performance;

BOM in your specific design and format (typically .csv);

Schematic and layout can be automatically imported from your CAD tool.
This approach helps electronics engineers to find the perfect module for their project. Instead of just technical specifications there are also information about use and function given. Due to that, you can even search specifically for the requirements defined by the management.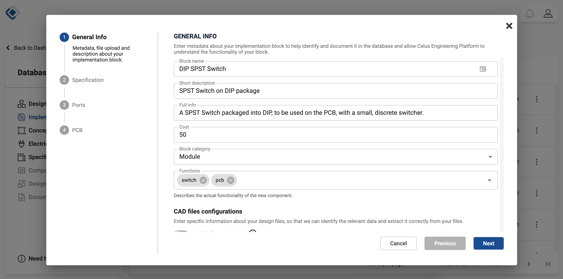 CELUS Cubos
These extended modules enriched with the knowledge of the electronics engineers are now called Cubos. And they are only part of the whole story. To be able to reuse designs as efficient as possible, there is a second part to the solution. CELUS Supernova is able to use the automated Orbit-library to create PCB-Layouts, schematics and Bills of Material at the touch of a button. In the end, it is even easier than to copy and paste existing designs as the algorithms will scan the library for the engineer. Even though CELUS facilitates the Design Reuse, there is still expertise needed: After the automatic creation of the PCB-files, the freed-up time can be used to polish the generated Designs. The electronics engineer is always in the driver's seat and invests their expertise as well as creative and innovative approach into the project. Of course, the edited new versions of modules are also saved in the database by the system and therefore, they can be re-used several times.
All in all, Design Reuse is on the move. It should be included into the engineering process to be able to keep pace with the fast development cycles. This not only requires a change in the developer's mindsets as well as new systems being capable of supporting IP Reuse. You can learn more about solutions for the problem of skill shortage in our whitepaper here.
If you are interested in how the CELUS Engineering Platform exactly works, we recommend you to take a look at our Case Study. Together with our partner Viessmann, we were able to save 47% of the development time. You can read the entire process here: