Cubos in the electronics development
---
Our goal: Reusing modules or designs for your electronics project. Due to that, you will save time and effort, that can rather be invested into important things, such as innovation and technical masterpieces.
But how can this be achieved? Currently, in many companies Design Reuse fails because of shortcomings in the infrastructure, communication or just because of missing know-how. This leads to missing descriptions or technical data for the module, which would enable engineers to adapt and reuse an existing module for their project. At CELUS we developed a solution for this: Cubos. In the following, it will be explained how to implement Cubos in a company's personal library and how they can effectively support Design Reuse.
Get a first overview:
How to convert modules into Cubos
A Cubo is the lowest hierarchy level to describe a hardware system. Its structure is described with a netlist, in the form of schematics and BOM, as well as a PCB-Layout. Its behavior is characterized with a set of keywords, attributes and functionalities. This can be imagined like a data sheet for a component. These pieces of information are often missing in conventional processes, however, they are needed for frictionless Design Reuse. Therefore, the CELUS Software asks for these pieces of information to enrich the module with the data before saving it in the database.
This is the interface, where you can transfer the information into the library: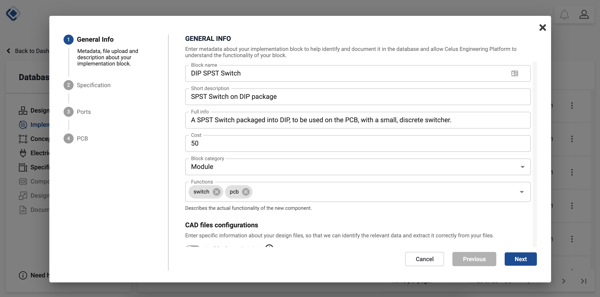 Block name: Name your Block

Short description: A short description for your Block with a maximum of 60 characters.

Full Info: A detailed description for your Block with a minimum of 60 characters.

Block category: Choose the best fitting possibility out of "module, microcontroller and supply" for your Block.

Functions: A collection of pre-selected keywords that describe the functionality of your block. You can select several, but the design requires at least one.
Support from Artificial Intelligence
The CELUS Engineering Platform not only asks for information, but also provides AI-generated suggestions that only manual verification. This saves time, when building up the database and adds value to your company's IP. Additionally, we facilitate the process of building up a database with a great repertoire of standard modules. We maintain this standard library for you and are keeping it up to date.
Working with Cubos
The relevant module could only be uploaded successfully if all required fields were filled out. This will ensure that your database contains all essential information. This is the basis to reuse the time-consuming development work. The effort of developing a module can pay off several times in new projects. However, in the CELUS project you don't directly work with Cubos. Rather, you use Design Blocks in order to describe the functionality of your PCB and how it is all connected. The algorithm will then search the database for the ideal Cubo based on the information you implemented before!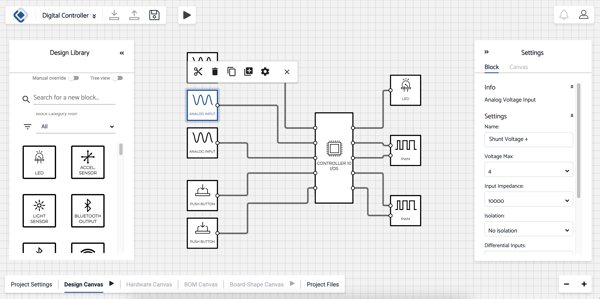 Afterwards, you will be able to edit it in a CAD-Tool of your choice. To do so, you can upload your construction data very easily via drag & drop into the tool. For the best possible compatibility, you can choose between the following data formats:
For Eagle: Schematics in *.sch, Layout in *.brd and BOM in *.csv-files

For Zuken Cadstar: Schematics in *.csa, Layout in *.cpa and BOM in *.csv-files

For Altium: Schematics in ASCII *.SchDoc, Layout in ASCII *.PcbDoc and BOM in *.csv-files
Move towards future
Development cycles are becoming shorter and shorter. Design Reuse is one solution strategy to massively reduce time exposure of electronics development. This, however, is only one part of the solution we are providing. With CELUS, you can additionally automate further steps of your electronics development, such as component selection and arrangement. Your electronics developers can rather invest this saved time into ideas, innovation and new projects. A big step towards future.
Interested in more?
To give you an even better idea of how Cubos can be applied to your very specific case, we have a practical example for you here. Our case study describes in detail how Viessmann was able to take advantage of the CELUS Engineering Platform: