Bring structure to your electronic components management
---
For companies developing electronic solutions, bringing structure to a large database with thousands of electronic components is hard. All too often, component data is managed through offline and dispersed systems with little to no process management and control involved. This easily leads to poor component decisions in the product design phase, too high component variance in inventory management and non-optimized purchasing strategies due to a lack of volume leverage.
The importance of a well managed electronic components database
New and attractive electronic components are being introduced by component manufacturers all the time while other components go end-of-life or undergo changes that impact how they can be used in your designs. The process of actively managing your electronic components library typically involves multiple departments with responsibilities spread across engineering, purchasing and even quality or logistics. How to do you guarantee that you are using the best electronic components in existing and new designs that come through validated supply chains, with the right price, the right quality and the right availability?
Your solution: CELUS Orbit
With CELUS Orbit, we help you to bring structure to your electronic components management system. We provide a single library where all relevant component data is being stored. And with tailored workflows, you manage the process flow of how components are being added, updated or archived across their life cycle in your company.
Electronic engineers find up-to-date information such as product parameters, footprint and schematic symbols, datasheets, errata sheets and application notes in a single location. Purchasing has access to pricing and availability information and can make necessary changes that are directly visible for engineering. Any changes that are made to the electronic component are fully visible and can be traced back to the person that made the changes. We allow revision management and where-used information, all in a single location.
What's more, CELUS Orbit is also the system in which you manage your Cubos. Cubos are functional reuse blocks with rich information on the interfaces, functionalities and application parameters. These Cubos are the basis for new designs and are a functional combination of the electronic components in Orbit. With having both components and Cubos in a single library, any changes on component level are directly linked to the impact that this change may have on Cubo level. As such, Orbit will give you full change management on design information level. Want to learn more CELUS' Cubos? Find out more in this article!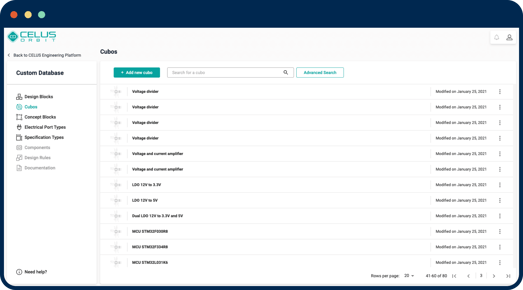 Export data to your tool chain
At CELUS we have set ourselves the goal to connect to as many available ECAD, PLM and ERP systems as possible. We use our own internal data format that allows us to import data from many sources while exporting the data to the system language of your choice.
CELUS Orbit brings a whole new level of structure and control in your electronic components management process while seamlessly integrating in your tool chain. Check out how you can improve data availability, quality, process management and structure to your organization by finding out more about our CELUS Orbit's capabilities here!